Ciara's video for "Love Sex Magic" recently premiered. The song and video features Justin Timberlake who seems to be the go to guy for female pop stars these days. Both Rihanna and Madonna have songs with him, Christina toured with him, and Beyonce has performed with him (as well as their much publicized "Single Ladies" skit on SNL).
It's interesting Ciara's handlers chose Justin for this song which heavily features the word magic considering he started out on the Micky Mouse Club. Disney is, of course, all about magic. In all of their ads and in a lot of their movies they program their young viewers with magical themes. Walt Disney himself was a Freemason and was heavily into the Occult. I don't really need to go into some of the subliminal messages Disney movies and products convey because that is pretty common knowledge these days (if you don't know research for yourself) but the subliminal messages usually revolve around sexual themes, so children are being programmed sexually from a young age via Disney.
I believe all of the former Mousketeers were programmed as children due to their suspect behavior and repetitive MK themes in their work. I've posted about Britney Spears more than anyone on this blog because she is one of the most onvious mind control victims. You see it not only in her work but in her personal life aswell. Christina is another who is MK'ed although it's not so obvious with her. But anyway, onto the video.
The song title itself combines sex and magic (very Occult) with love. The video is FULL of MK themes. Ciara is pretty much a programmed sex kitten in this video while Justin plays the handler.
Here we see Justin pulling a chain around her neck like she is a chained animal who he is in control of.
Ciara licks her magical handler like a kitten. Throughough the video she is shown licking him and crawling like a cat.
Here Ciara is Illuminated by multi colored lights. This is very similar to higher ranking Illuminati stars like Kylie Minogue and Madonna.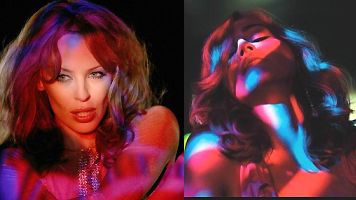 Since Kylie released her "Chocolate" video before Madonna's photo shoot, there was a war among fans who were debating if Madonna was copying Kylie (similar to what I will dicuss later in this blog about Ciara and Beyonce). What people fail to realize is these themes are passed around from the Illuminati's princesses, queens, and goddeses for a reason. They each represent the same thing; they are interchangable. That's what I found interesting about Lady Gaga's logo.
I believe Lady Gaga is representative of these women and girls. She is just the latest in a long list. A lot of what she does is very much along the lines of Dale Bozzio, Madonna, and Gwen Stefani. She is just needed right now because Dale is no longer a star, Madonna does not influence the youth, and Gwen has lost her edge. Anyway, in the logo we see a female mannequin with it's head missing. It's sort've like you can take one head off and put the another one on but it represents the same thing. Back to Ciara though.
She's Illuminated because she is a product of the Illuminati.
Next we see Ciara and her dancers as, well, dancers. This is another reocurring theme. Madonna and Kylie brought the leotards back into fashion. Madonna has been seen as a dancer in front of a mirror in a lot of her videos like "Hung Up" and "Give It 2 Me". Beyonce has recently joined the list with her leotard in "Single Ladies" and she played a dancer in "Halo". I plan on doing an entire entry on the theme of dance and what it subliminally means in the future.
Next we see Ciara in a zebra print catsuit. As most of you who have read
The Illuminati Formula to Create an Undetectable Total Mind Control Slave
or read
Pseudo-Occult Media
(by the way, thanks to that blog for linking my blog on their page and giving my blog props in one of their entries) know Zebra symbolism represents duality for MK Ultra vicims (
click here
to read more about the Zebra symbolism at POM).
Next we see Ciara behind bars. They are always shown trapped or caged. Recently we saw Britney caged on her current tour, Lindsay Lohan was a caged bird in her video for...I actually forgot the title of the song, LOL...but yeah, one of her videos (it was about the paparazzi), and Gwen Stefani was locked up in "The Sweet Escape".
Ciara's video is already causing controversy due to Beyonce fans who claim the video Ciara is copying various videos made by Beyonce.
Like I explained before, they represent the same thing but if you can't stand Beyonce they can program you through Ciara, or if both Beyonce and Ciara are too urban for you they can get to you through Britney.
The gossip site Bossip also posted some examples of Beyonce supposedly copying other artist (as if she comes up with ideas for her work) to get back at the Ciara fans.
(Robot agenda)
(Robot Hands)
Baphomet bike (they are vehicles for the Baphomet)